TRANSFORMING LIVES, ONE WISH AT A TIME
Pennsylvania FBLA is proud to announce that Make-A-Wish® has been selected as the 2022-2023 State Project. Make-A-Wish Greater Pennsylvania and West Virginia is the branch of Make-A-Wish that covers 57 counties in western, central, and northeastern Pennsylvania and is broken into 6 different Regional Offices and Make-A-Wish Philadelphia, Delaware, and Susquehanna Valley is the branch that covers the remaining 13 counties in Pennsylvania and has 2 different Regional Offices.
Make-A-Wish® is an international non-profit organization that grants the wishes of children with life-threatening medical conditions to enrich the human experience with hope, strength, and joy
With this new partnership, we are striving to grant 8 wishes – one for each of the different regions of Make-A-Wish in Pennsylvania.  We encourage you to contact a regional office in your area to find out how you can work together to help grant a wish to a "Wish Kid" in your area.
---
Project Theme:  "Building the future one wish at a time"
Fundraising Goal:  $29,000 statewide
Make-A-Wish Greater PA & WV Website:  https://wish.org/greaterpawv
---
All checks should be made payable to:  PA FBLA or PA FBLA State Project.
Send all contributions to the PA FBLA state office at any time during the year:
Bruce E. Boncal
PA FBLA Executive Director
PO Box 5085
Jersey Shore, PA 17740
Deadline for Contributions for State Project Awards:
All contributions received by April 17, 2023, 12:00 noon, will be counted toward the two state projects awards announced at the SLC Opening Session.  Drop off contributions brought on site at the conference headquarters in the Hershey Lodge, Cocoa Terrace.
Contributions will continue to be accepted from chapters until June 20, 2023.  A final check to Make-A-Wish Greater PA & WV will be sent to the organization at the end of the fiscal year.
Make-A-Wish Greater PA & WV Main Contact Information:
Maggie O'Brien
Scranton Regional Manager
327 North Washington Avenue, Suite 501
Scranton, PA  18503
Phone:  (570) 341-9474
Email:  mobrien@greaterpawv.wish.org
Make-A-Wish Greater PA and WV Regional Offices: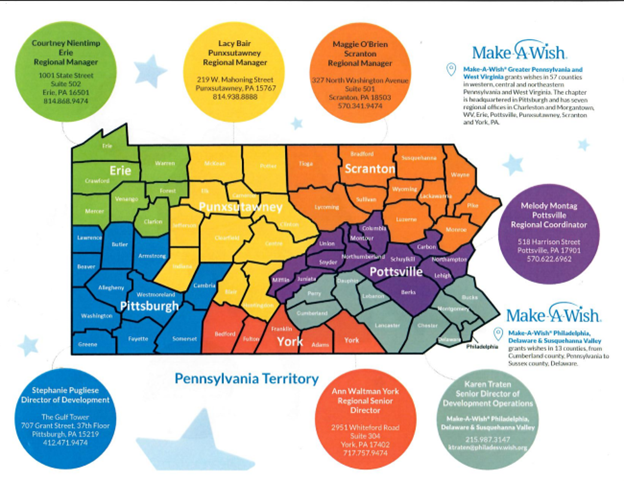 Make-A-Wish Greater PA and WV Social Media: