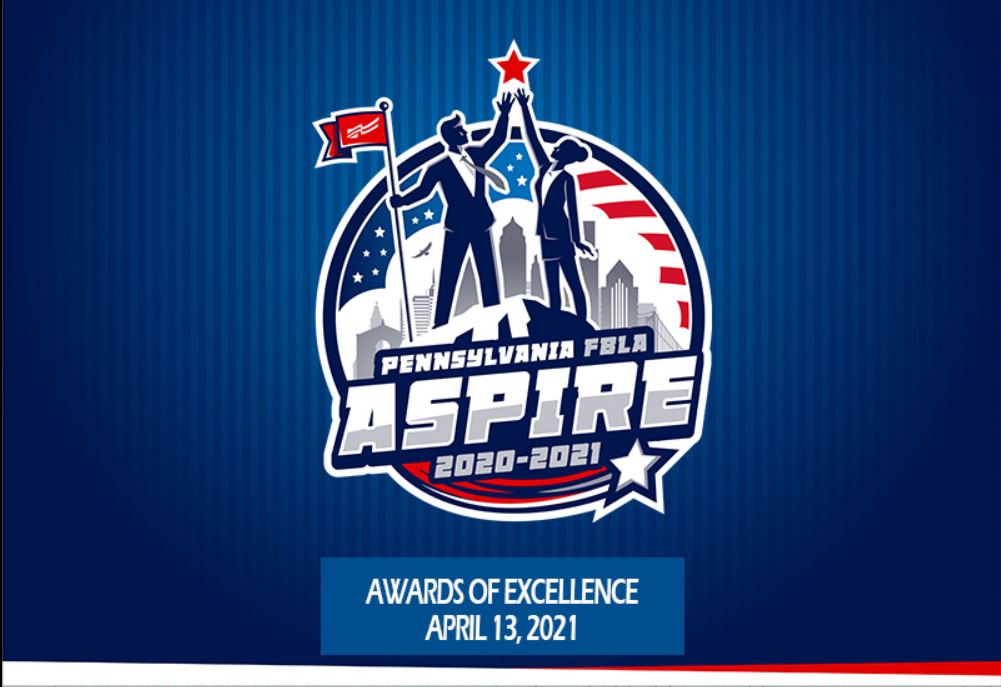 Link to Broadcast:
www.thinkcybis.com/pafbla-live
There is no fee/cost to livestream the Awards Program; it is free.  Do not attempt to pay anything.  Please make sure your students and parents know that.
The Awards Program will start a few minutes before the 7:00 pm start time.  There is no limit on the number of concurrent connections watching the program.
Don't be fooled into providing a credit card for anything thinking that will bring up the livestream (when it may not have even started).  Last year, multiple parents and advisers used their credit card and believed they were paying for the livestream.
The only place to pay is to purchase a DVD/USB of prior year's programs; don't click on that unless you want a copy.
---
This is the projected timeline of events for tomorrow night's Awards of Excellence Program.  The timeline is approximate; it is possible the program may run ahead or behind this timeline, but  the goal is to be as close as possible.
The awards will be presented in random order, not alphabetical order.  The middle-level award winners will also be announced during this program.
| | |
| --- | --- |
| Beginning of Stream & Pre-Show | 6:50 PM |
| Intro Video | 7:00 PM |
| Introduction of Officers | 7:02 PM |
| President's Welcome & Call to Order | 7:07 PM |
| State Officer Farewells | 7:09 PM |
| Patriotic Sequence | 7:21 PM |
| Senior Recognition | 7:23 PM |
| Business Achievement Awards Recognition | 7:27 PM |
| National Community Service Awards Recognition | 7:29 PM |
| National Business Honor Society Recognition | 7:30 PM |
| Big 33 Community Service Individual | 7:32 PM |
| Big 33 Community Service Chapter | 7:33 PM |
| PA FBLA Outstanding Adviser | 7:34 PM |
| Outstanding Service | 7:35 PM |
| Gold Seal Chapter Award of Merit | 7:37 PM |
| Remarks from National President | 7:39 PM |
| Middle-level Program Award Winners | 7:41 PM |
| State Project Recognition – American Heart Association | 7:43 PM |
| Largest Chapter & Per Capita Contributions | 7:45 PM |
| Announcement of State Officers | 7:46 PM |
| Open Event Finalists | 7:51 PM |
| Open Event Champions | 7:53 PM |
| Awards Introduction | 7:55 PM |
| Website Design | 7:56 PM |
| Database Design & Applications | 7:57 PM |
| Local Market Share Award | 7:58 PM |
| Partnership with Business Project | 7:59 PM |
| Business Law | 8:00 PM |
| Journalism | 8:01 PM |
| Management Information Systems | 8:02 PM |
| Public Service Announcement | 8:03 PM |
| Introduction to Business Communication | 8:04 PM |
| Computer Applications | 8:05 PM |
| Broadcast Journalism | 8:06 PM |
| Personal Finance | 8:07 PM |
| Local Chapter Annual Business Report | 8:08 PM |
| Introduction to Business | 8:09 PM |
| Accounting II | 8:10 PM |
| Management Decision Making | 8:11 PM |
| Business Calculations | 8:12 PM |
| Political Science | 8:13 PM |
| Advertising | 8:14 PM |
| Sports & Entertainment Management | 8:15 PM |
| Introduction to Information Technology | 8:16 PM |
| Introduction to Financial Math | 8:17 PM |
| Largest Percentage Increase in Chapter Membership | 8:18 PM |
| Coding & Programming | 8:19 PM |
| Largest Local Chapter Membership | 8:20 PM |
| Word Processing | 8:21 PM |
| Impromptu Speaking | 8:22 PM |
| International Business | 8:23 PM |
| Introduction to FBLA | 8:24 PM |
| Business Plan | 8:25 PM |
| Accounting I | 8:26 PM |
| Who's Who in PA FBLA | 8:27 PM |
| Community Service Project | 8:28 PM |
| Computer Game & Simulation Programming | 8:29 PM |
| Publication Design | 8:30 PM |
| Organizational Leadership | 8:31 PM |
| LifeSmarts National Qualifiers | 8:32 PM |
| Digital Video Production | 8:33 PM |
| American Enterprise Project | 8:34 PM |
| Spreadsheet Applications | 8:35 PM |
| Electronic Career Portfolio | 8:36 PM |
| Securities & Investments | 8:37 PM |
| Entrepreneurship | 8:38 PM |
| Public Speaking | 8:39 PM |
| Business Ethics | 8:40 PM |
| Mobile Application Development | 8:41 PM |
| Introduction to Business Presentation | 8:42 PM |
| Introduction to Public Speaking | 8:43 PM |
| Job Interview | 8:44 PM |
| Introduction to Business Procedures | 8:45 PM |
| VBC Finance & Management National Qualifiers | 8:46 PM |
| Help Desk | 8:47 PM |
| E-business | 8:48 PM |
| Business Communication | 8:49 PM |
| Networking Infrastructures | 8:50 PM |
| Marketing | 8:51 PM |
| William H. Selden Scholarship Awards | 8:52 PM |
| Cyber Security | 8:53 PM |
| Parliamentary Procedure | 8:54 PM |
| Economics | 8:55 PM |
| Network Design | 8:56 PM |
| Business Financial Plan | 8:57 PM |
| 3D Animation | 8:58 PM |
| Hospitality & Event Management | 8:59 PM |
| Future Business Leader | 9:00 PM |
| Introduction to Parliamentary Procedure | 9:01 PM |
| Graphic Design | 9:02 PM |
| Sales Presentation | 9:03 PM |
| Insurance & Risk Management | 9:04 PM |
| Banking & Financial Systems | 9:05 PM |
| Client Service | 9:06 PM |
| Health Care Administration | 9:07 PM |
| Social Media Strategies | 9:08 PM |
| Agribusiness | 9:09 PM |
| William H. Selden Outstanding Chapter | 9:10 PM |
| Computer Problem Solving | 9:11 PM |
| Introduction to Event Planning | 9:12 PM |
| Introduction to Social Media Strategy | 9:13 PM |
| Supply Chain Management | 9:14 PM |
| Awards Conclusion | 9:15 PM |
| NLC Promotion | 9:16 PM |
| Closing Remarks & Adjournment | 9:19 PM |