Adviser Chapter Management Tools
Membership Recruitment Video
Adviser Welcome Guide — High School
Adviser Welcome Guide — Middle Level
Implementation Guides — High School
Implementation Guides — Middle Level
Chapter Status, 2021-2022:
Each chapter is to complete the following online form identifying its active/inactive status.
https://pafbla.wufoo.com/forms/sy2mevy04wzzj1/ 
---
National FBLA:  www.fbla-pbl.org
To establish your password and your profile, you have three options on the main page to access the my.fbla database:
Option 1:  Look for "advisers" in the upper-right corner.  Choose "chapter management."
This will be essential for you to enter membership into the National FBLA membership system.  You will no longer enter your membership at the PA FBLA website.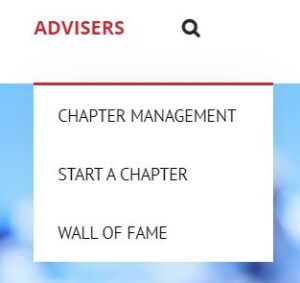 At the next screen, you will see the following:

Choose my.FBLA Membership Database.  The following screen will appear; choose "my profile."   The following screen will appear: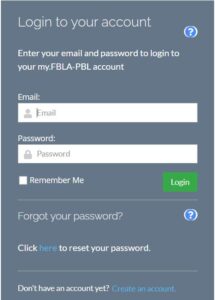 Enter your school email address.
If you know your national FBLA password, enter it.  If not, click the "click here" link to reset your password.  You will then be prompted to establish a permanent password.
Once you are logged in, check your profile to make sure it is correct.  Check for the following:
1.  Make sure your address is your school's mailing address.
2.  Make sure your school phone is listed.
3.  Make sure your school email address is correct.
4.  Add a picture, if you wish, so you will be seen in the private leadership communities.
Option 2:
At the top of the window, look for "members and advisers" in the blue banner at the top.  Click on it to see the following, and then choose "my.FBLA membership database."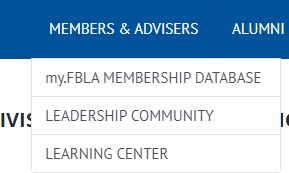 Hint:  Your students will be able to login and establish their own profile using the email address you enter into the membership system just as you did.  The email address you provide will be critical, and it will be essential that the email receives content from outside the school system.
Follow the remaining steps to establish a password and your profile.
Option 3:
Scroll to the bottom of the main page of the website.  Look for this this three-panel graphic.  Choose the my.FBLA membership database graphic panel.