Registration Period:
January 20 – February 19, 2021 (closes at 11:59 pm)
Registration Fee:
$20 per student participant
No fee for advisers
Step-by-Step Registration Instructions
SLC Eligibility Document for Competitors — Plan A
All PA FBLA members may participate in the 2021 Virtual State Leadership Conference.
Only students who qualify through their RLC may compete in the official competitive events program (see the Plan A list).

PA FBLA will offer an open competitive events program in which members may participate in 5 of the 10-15 open events.  A final list will be announced and posted by February 12.  Registration and testing procedures will be announced later.

PA FBLA will offer a keynote speaker on Monday, April 12.

The Awards of Excellence Program will be offered on Tuesday, April 13, starting at approximately 7:00 pm.

There will be leadership development program offering starting the week of March 10 and continuing each week until through the week of March 29.  Adviser professional development will occur during that time.

There will be special events such as GooseChase and Kahoot! and other items with special prizes.
Deadline for Payment:
February 26, 2021
Registration Payment Options:
1.  School district checks
2.  School district purchase orders (final payment due March 12)
3.  School district credit cards (contact Bruce Boncal so that a group invoice can be generated and emailed to the adviser)
4.  Parent personal checks/money orders for individual students
5.  Parent credit card payments (by request/see form below)
Forms:
Parent Request to Pay by Credit Card
How does the parent billing work?
Parents may request to pay their student's PA FBLA Virtual State Leadership Conference registration fee by credit card by completing this online form. Once the form is received, an invoice will be sent by PA FBLA to:
1. the FBLA adviser's email address
2. the parent's email address
3. the student's email address
Even though the invoice will be addressed to your child's FBLA chapter, the attached PDF file to the invoice will show that the invoice is to be paid by the parent. Once the payment is made, the adviser will receive notice that payment has been made AND the parent will receive notice payment has been received (assuming the parent email address is entered when paying).
All registration fees must be paid by Friday, February 26, no later than 11:59 pm.
If the parent chooses to use a credit card, there will be a 3% convenience fee (60 cents), which is a little more than a 51 cent stamp but enables payment to be made immediately and avoiding the postal service mail delays that have been and are being experienced.
If the parent chooses to pay by check or money order, please send the check to the address found on the invoice AND include a copy of the invoice. Please write the invoice number on the check.
Who Does the Registration for Students and Advisers?
The chapter adviser is responsible for entering names into the registration system.
Where Do I Register?
All registration must be done through the PA FBLA website at www.pafbla.org.
Option 1:  Look for the following in the "Adviser" Menu –> SLC Registration

Option 2:  Look for this graphic on the main page of the website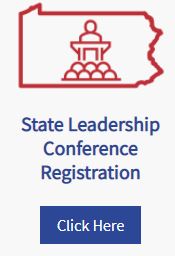 Advisers must sign in with their PA FBLA username and password.  Once signed in, the adviser will see the following menu choices:
SLC Adviser Registration

(use this to register advisers at no fee)

SLC Chaperone/Guest Registration

(most likely will not use in 20-21)

SLC Student Registration

(use this to register student participants)

SLC Registration Information Report

(use this to generate a list of participants and an invoice)

SLC Payment/Forms Status Report

(check individual payment status here)